Archive for the 'Train' Category
FROM billboard.com
Train's Monahan Goes Solo With 'Last Of Seven'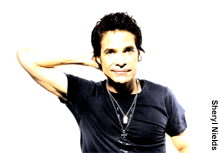 Pat Monahan
July 05, 2007, 4:00 PM ET
Momentarily stepping away from his main band, Train frontman Pat Monahan has wrapped work on his solo debut with producer Patrick Leonard. "Last of Seven" is due Sept. 18 via Columbia. First single "Her Eyes," written by Monahan along with Leonard and John Shanks, is an uptempo number inspired by Monahan's girlfriend and daughter.
"I'm a soul singer in a way that I'm projecting more on this record than on any other," Monahan tells Billboard.com, adding that as soon as he started writing this particular batch of songs, he "realized I wasn't writing a Train record." The album also features a guest turn from labelmate Brandi Carlile and Train guitarist Jimmy Stafford on "Pirate on the Run."
"Her Eyes" is set to hit radio shortly, and Monahan feels it's a song "people are going to be really drawn to." As for whether people will instantly recognize the song as a departure from Train's sound, Monahan notes, "It's hard for me to say because I'm the singer of both projects."
Elsewhere on the album, the choir-backed "Some Day" speculates about the afterlife, similar to the Train hit "Drops of Jupiter" while "Great Escape," co-written by James Bourne, is "moody" with a European vibe. Monahan says a brief tour is tentatively scheduled for the beginning of October, with a full-blown trek in the works after the holiday season.
He adds that Train is only on a temporary hiatus in order for Monahan to pursue the solo path, although there is no set timetable for the group's next album. Train's last effort, 2006's "For Me, It's You," peaked at No. 10 on The Billboard 200.
As far as releasing future solo albums, Monahan says it all depends on what happens with "Last of Seven." "Success in anything just simply buys you the opportunity to work more," he says. "With this project, if the demand is there to continue for me to do this, then absolutely."

03 21st, 2007

OK